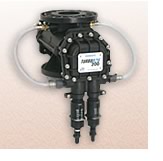 Industry leader, Autrex Industrial is a specialist equipment and component supplier of liquid application technology, with a sound reputation that spans nearly four decades.

Established in 1972, Autrex Industrial is recognised for its quality service and sound technical knowledge, whilst serving end-user clients in the Western Cape.

Specialist import distributor and supplier of Dosmatic and Flojet pumps, Autrex is established as a niche product supplier to a broad range of clients in
commercial, industrial and agricultural fields, who can use our specialized knowledge in Spray Nozzle Technology; High or Low Pressure Pumping; Chemical and Medication Dosing Injectors; Filtration, Straining and related applications.

The company's expertise extends to its ability to offer technical advice and design for recycled water washing systems; high volume gravity fed filtration systems; high pressure pumping and cleaning projects; spray nozzle application projects; and safety showers.

Autrex Industrial's success has been built on its reputation to support sales with technical advise, back-up service, workshop facilities, storage and distribution capabilities.